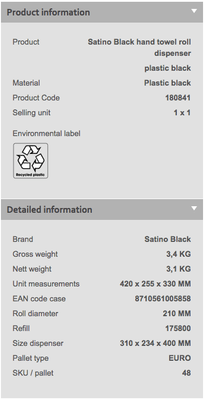 Satino Black - Paper Hand Towel Dispenser
WEPA
The Beautifully crafted Satino Black Hand Towel Dispenser is a sleek, stylish and superbly functional part of any modern designed washroom.
Dispensing the Cradle to Cradle Certified™ Paper Hand Towel, the Satino Black Dispenser has a unique stub roll feature, is super easy to use & is efficient & economical in it's paper roll dispensing.




NOTE: - This item is the first to be a part of our Lease Value Packages and depends on the quantity of the order. on Orders over 30 items, we give you the Dispenser on a 5 year lease and only charge for the refills.
SKU: 180841