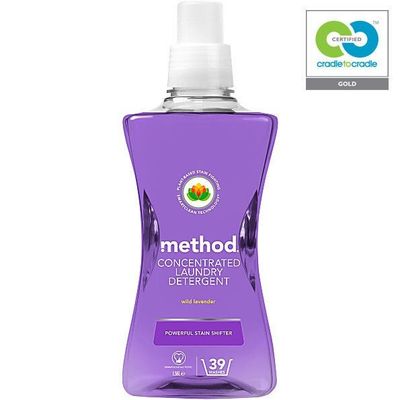 Method - Concentrated Laundry Detergent - Wild Lavender - 1560ml
Method
£11.50
Get a Load of this...
Worth taking your clothes off for... that's smartclean® technology for you. five naturally derived powerful enzymes wrangle dirt + stains clean away.
Method's Plant-based stain fighting awesome smelling Laundry liquid leaves laundry smelling of heaven and looking its Sunday best.
Fights dirt + stains.
Keeps whites white.
Shields against stains.
Works in cold water.
98%bio-degradable ingredients.
To wash:- pour into machine drawer, leave to work its magic, return to fresh laundry.
to Pre-treat:- rub a little detergent onto icky stain, wait 5 minutes, wash as usual.
Loves whites + colourfast fabrics.
Test inconspicuous area for colourfastness.
NOT suitable for WOOL or SILK.
Check instructions on label of clothes.
Cradle to Cradle Certified™ Gold. ...Totally out of this world. We Love iT :)
SKU: LaundLavender