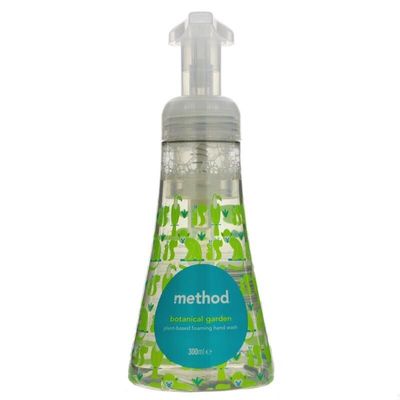 Method - Limited Edition Foaming Hand Soap - Botanical Garden
Method
£3.50
Method´s Botanical Garden Collection - Limited Edition
Plant-Based, Biodegradable Ingredients
Soft & Gentle on Your Skin
Refreshing Fusion of Botanical Garden
This Method hand wash is a refreshing fusion of botanical garden, giving your hands a beautifully fresh scent.You should wash your hands regularly and think about what you're washing with as this is a naturally derived, triclosan-free, heavenly scented hand wash so you'll want to give your friends a high five after using it!
This is a unique foam handwash that will easily lather over your hands and leave them soft and clean.Not only does it smell amazing, but it's not been tested on animals – as Method products never are – and comes in completely recycled packaging, ensuring that it's kinder to the environment.
All of method's ingredients are comprehensively assessed by a leading research firm MBDC to ensure their safety for people and the environment.
300ml.
SKU: BotGardenHandSoap-1