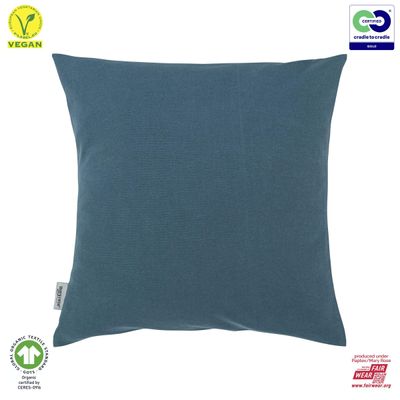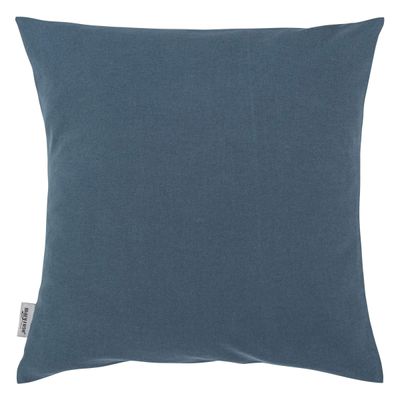 Mary Rose - Organic, Fair Wear & Vegan - Cushion Covers - Night Blue
Mary Rose
£18.95
UK exclusive, luxury European made Mary Rose Cushion Covers - 100% Fair Wear GOTS (Global Organic Textile Standard) organic cotton makes a wonderful & healthy addition to your home.
Presented in two generous sizes, 40cm x 40cm & 50cm x 50cm.
Images : - © Martin Raffeiner
Combining exclusive luxury with upmost Health & wellbeing excellence, all guaranteed with the ultimate Cradle to Cradle Certified® Gold as standard.

This 100% Fair Wear GOTS organic Cotton is the pinnacle of Cradle to Cradle Certified® textile design. Once you are finished using it, after 10 years or more, you can safely dispose of it in your compost or cut it into small pieces and it will naturally biodegrade, nourishing the soil for other plants to grow.

Mary Rose says:
"Our Cradle to Cradle Certified® Gold cushion covers using 100% pure GOTS organic cotton and carefully selecting dyes leave no harmful substances behind, so if ever composted will build healthy soils."

Our shared values. C2CMP & Mary Rose - Stronger Together.
Mary Rose writes...
"Our world is hectic, exhausting and fast-paced. Stress at work is normal and we are also exposed to many influences outside of it. A comfortable, relaxing retreat is all the more important: your home. We know how important it is to feel really comfortable at home and we rely on the highest quality of our textiles and accessories for living room, kitchen, bathroom and bed.

After all, isn't it nice when we buy a great piece that we really enjoy, that lasts a long time and that we always want to have with us?

At least we see it that way and are convinced of conscious living and how happy it makes us. However, we should also give away some of this happiness, which is why we place great emphasis on sustainability. Global division of labour in the field of textiles has become indispensable today, but the relationship must become fairer so that everyone benefits. We take responsibility for changing things and pay more attention to the organic cultivation of raw materials as well as to environmental and social standards in further processing. It is also part of conscious living that you are aware of your role in the environment and for your fellow human beings.

In the following you will learn more about our philosophy and what we value:

GOTS
Many of our linens are GOTS-certified - you can recognise them by the green t-shirt symbol. The Global Organic Textile Standard (GOTS) is recognised as the world's leading standard for the processing of textiles made from organically produced natural fibres. At a high level, it defines environmental requirements along the entire textile production chain and at the same time the social criteria to be observed. Quality assurance takes place through independent certification of the entire textile supply chain.
The aim of this standard is to define requirements that ensure the sustainable production of textiles, starting with the extraction of textile raw fibres through environmentally friendly and socially responsible production to the labelling of the end products in order to offer product safety for the end consumer. The standard therefore covers the production, manufacture, packaging, labelling, trade and distribution of all textiles that must consist of at least 70% natural fibres produced in a controlled manner. It can e.g. B. Yarns, fabrics, clothing, home textiles and other products made of textile fibres are certified.

Cradle to Cradle Certified®
The Gold standard in ecological and social wellbeing and quality, to make safe, circular and responsibly made products.
Our Cradle to Cradle Certified® products are made from organic cotton and have been awarded the Cradle to Cradle Gold certificate. From the fabric made of organic cotton, to the sewing thread, to the weaving and product label, to the colour pigments - everything is completely biodegradable and can be returned to the biological cycle without leaving any residue. The focus is on:
material health
product circularity
renewable energy and Carbon management
water and soil stewardship
social fairness
If you want to learn more visit the website www.c2ccertified.org or ask our C2C Marketplace team.

FAIR WEAR
The Fair Wear Foundation (FWF for short, English: "Organization for Fair Clothing") is an organisation that aims to improve working conditions in the textile and clothing industry. The foundation checks whether the companies that have joined implement the FWF guidelines in their production. The organisation was founded in 1999 and since then the number of member companies has been steadily increasing. We are proud to be a part of it and to have taken this step as the first company in the home textiles sector. Together with the other members, we work to spread awareness of fairness in production and delivery. This awareness includes, among other things, the following points: limitation of working hours, free choice of work, no discrimination, safe and healthy working conditions and payment of a living wage. We stand behind this organisation 100% and are working flat out to ensure that fairness in this and other industries is no longer the exception but the norm.
You can find out more about Fair Wear at www.fairwear.org.

REGIONAL COLLABORATION
Wherever possible, we work with regional suppliers and producers in order to maintain value creation in our own country and to strengthen companies. The fillings of our pillows come from suppliers in Austria and are 100% filled, packed and shipped by employees of work and integration projects.
With central shops in Innsbruck and Dornbirn, we make a clear commitment to the city centre. In this way, we contribute to maintaining the attractiveness of the city centre, which also benefits other shops and restaurants.

COMPLIANCE WITH SOCIAL STANDARDS
As a member of the BSCI (Business Social Compliance Initiative), PAPTEX Textilhandels GmbH (Wholesale Mary Rose) is committed to compliance with social standards in the companies that manufacture our products.
The aim is to continuously and sustainably improve working conditions in production facilities outside of Europe and to ensure that legal provisions are complied with. To this end, the BSCI has developed a code of conduct to which the members commit themselves.
Compliance with these provisions and the implementation of agreed improvement measures are regularly monitored by external auditing institutes.

LIVE TRADITION
Since 1825, Tyrler has been an institution when it comes to bed linen, down and home textiles in Innsbruck. Experience and knowledge about sleeping has been passed on for generations and is still lived today. You not only expect the highest quality of the products, you can feel and understand tradition and experience. On site you can see how our customers' custom-made products are sewn and feather beds are cleaned. At Tyrler, the boss does the cleaning himself and the in-house tailoring then creates duvets that are like new again. Individual advice is the top priority at Tyrler and Mary Rose. Our experienced team will be happy to advise you and ensure your restful, healthy sleep.

PRESERVING HISTORY
The Schlossgugger Haus - a time capsule that has seen so much. It is the oldest house in Dornbirn and has been a listed building since 1967. Research has shown that the house dates back to 1290 (+/-5). A striking feature of the building is the gradual "petrification" of the original woodwork - the historical change from wood to wood-stone mixed construction. We fell in love with this house, bought it and are making sure that it is preserved and renovated. New ideas should live on in it - a project that gives us a lot of joy!

CLIMATE NEUTRALITY
Joining the climate neutrality alliance is another pillar of our brand. Together with many other companies, we have the goal of completely offsetting our own CO2 emissions, which are caused by transport, for example, by 2025 and thus counteracting the greenhouse effect.
For example, we are planning to build a solar power plant on the roofs of our weaving and dyeing works with the goal of "zero-pollutant bio-textiles".

VEGAN
Textiles are often NOT vegan - did you know that? Our Cradle to Cradle Certified® Gold products are - in contrast to many other textiles - vegan. This is because textiles in general are rarely completely free of materials of animal origin, as animal fats, uric acid, etc. are often added to them as processing aids during production. Since such processing aids usually do not have to be declared, the impression is given that textiles are vegan. With our Cradle to Cradle Certified® products, we do not use any materials of animal origin and have therefore been awarded the international V-Label."

At Cradle to Cradle Marketplace we have fallen deeply in love with presenting all that the Austrian iconic brand Mary Rose stands for and it is our pleasure to make these outstanding cushion covers available in the UK for the first time. We know that you will love them too.
SKU: P36401822000394