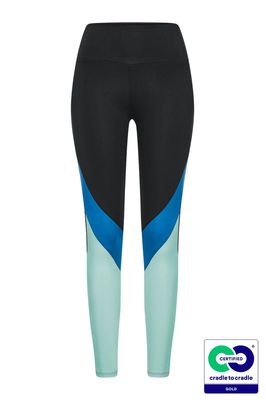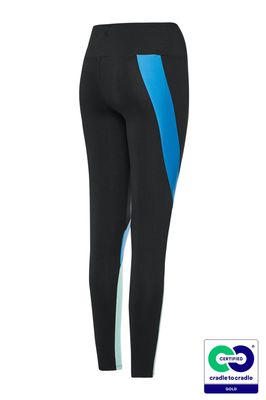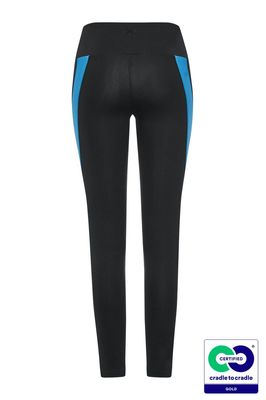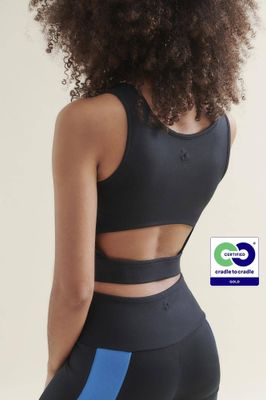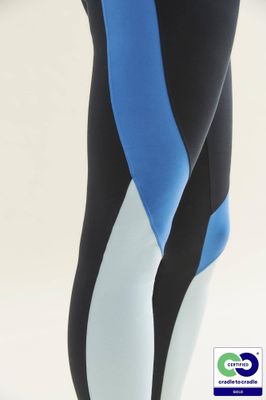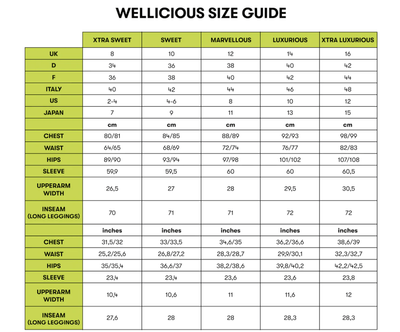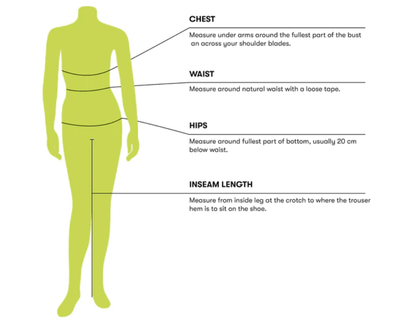 Wellicious New Leggings - Caviar Black/Shoreline Blue/Sea Green - 2023
Wellicious
£139.00
The stylish chevron pattern on these biodegradable organic yoga leggings will help keep your motivation and your yoga practice flowing! Combining a high waistband with funky colours, these eco yoga leggings are must! Feel like a sustainable yoga queen in our Cradle to Cradle Certified® yoga fabrics! Woven and Made in Europe.
SIZE & FIT - (See Size Guides for best fit)
Fits true to size
Tight fitted for extra confidence
Light support
FABRIC & CARE
- 87% Organic Cotton,
13% Decomposable Elastane,
100% circular
- Our organic cotton feels soft and luxurious on your skin, while maintaining high absorbency and a structured, durable feel. It is easy to wash, iron and wear with virtually no pilling.
- Care: Machine wash at 30°C or less on gentle cycle. Do not bleach or tumble dry. Please iron at 150°C. Any dry-cleaning solvent other than trichloroethylene may be safely used. Wash with similar colours. Wash and iron inside out. Do not rub, brush or wring. Please line dry to save energy and to ensure a longer lasting product.
- Cradle to Cradle Certified® GOLD. You can wear this product with a clean conscience, knowing it was produced in a healthy and sustainable way and will eventually return to nature.
Please Note: Be careful - if you put our Wellicous yoga wear in the dryer, they might shrink. Also, please do not forget that choosing air drying over tumble drying is more environmental friendly. It is estimated that if all households would choose to air dry their washing instead, they would save over a million tonnes of CO2 in a year!

WELLICIOUS & SUSTAINABILITY
So, we put sustainable thinking at the centre of everything! We want to give you the freedom to focus 100% on your Yoga practice – without worrisome thoughts about your ecological footprint.
According to Fashion Revolution, it takes 20 to 200 years for elastane sport clothing to decompose – the higher the elastane content, the longer it takes. Additionally, the normal dying process leaves traces of colour in wastewater – which not only harms the environment but can also be unhealthy for your skin.
Those facts were behind our motivation to create Yoga wear which is safe for both our customers and the environment.

For our Wellicious Cradle-to-Cradle Certified® yoga collection, we worked in a biological cycle - meaning that all Wellicious products are designed in such a way that they can be used over and over again. When a Wellicious product is ready to be recycled, it will decompose into organic nutrients, promoting the production of biological nutrients and systems such as plant growth. The renewable raw materials then become the basis for new products.
We're Certified.
We take greenwashing in the fashion industry seriously, this is why we have certified our products and fashion supply chain. Our products have all been certified by the Cradle to Cradle Products Innovation Institute and awarded the "Gold" standard overall, even receiving the highest "Platinum" award for material health. This means that no trace of microplastics is left behind in the ocean or in the ground. What does that mean? We've gone through a vigorous selection process to make sure all of our yarns, fabrics and suppliers are certified – we've even certified our warehouse, suppliers and production facilities to make sure they meet the requirements for being part of our sustainable supply chain. All our products manufactured after 2020 meet the highest environmental standards as Cradle to Cradle Certified®.
Made to Last.
Lightweight yet strong, our silhouette-smoothing fabrics let you move freely while our opaque selection gives you confidence through every pose. We work with only the best European suppliers to guarantee exceptionally high quality and attention to detail, ensuring a longer garment lifecycle. Our products hold their shape, wear after wear, season after season.…We've even surprised ourselves with just how long-lasting they really are!
Made in Europe.
We are invested in ethical yoga fashion. Our company is based in London and Germany. Everything – from our yarns and fabrics to the final collection pieces – is made in Europe. Shorter distances between our manufacturers, warehouses and headquarters help us reduce our carbon footprint, thus reducing the strain on our planet's natural resources, minimizing our impact on climate change. We maintain the highest working and environmental standards in full compliance with European health, safety, and environment principles and at the same time, we reduce the Product Environmental Footprint (PEF) of our garments.
We love Slow Fashion.
We love long-lasting design and believe in quality instead of quantity. We care that our products aren't disposed of after every season, but rather are made to last for years. We love what we do, and make sure we're doing it in a sustainable way.
SKU: 41118251712695